The huts in the Snowy Mountains can play an important role in safety and survival. They can also be good places to prepare meals and socialise when camping nearby. The huts are very basic heritage structures, are generally very small and cannot be booked. Under the mountain code, no one can claim exclusive use of a hut - all huts are open to all comers, no matter how crowded.
You must never rely on sleeping in a hut - they can be be impossible to find in bad weather or may be packed full of people when you arrive. When overnight touring, you must always carry a snow tent.
Four Mile Hut
The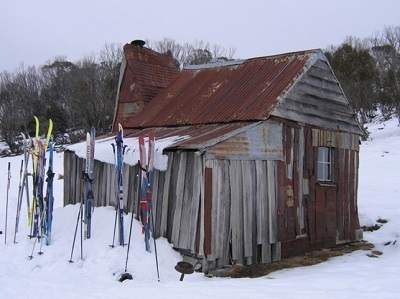 club is the official caretaker of Four Mile Hut.
Four Mile Hut (also known as Hughes Hut) is located about 5Km south south east of Selwyns Quarry, and is an easy ski or walk from there, or 7Km from Kiandra. The hut is easy to find in an open plain, unless buried by snow.
The area around the hut is a delightful camping spot with the hut providing shelter if the weather turns bad, with a table to eat on and room for 2 to sleep on the floor or bench. It is a very popular ski destination, and has saved the lives of a number of people over the years. However, skiers should be aware that it is very small, and cannot be relied on for shelter. If you intend to be out overnight, you must take a tent.


NEWS UPDATE
Four Mile Hut was destroyed in the bushfires of January 2020 - a tragic loss of important heritage. NSW National Parks and Wildlife Service are planning to build a replacement hut but as yet we have no timeframe for this.
History
The hut was built by Robert Hughes in 1937. He mostly used it in the non-winter months, as a base for gold fossicking, fishing and rabbiting.
For many years (until about 1981) there was a box of very live dynamite under one of the bunks, presumably to give any resident silly enough to light a really big fire in the hearth, a night to remember! In the early 1970's The Bogong Group undertook the first clean up and found the dynamite. In 1978, Klaus Hueneke organised the first major restoration with members of KHA. Since then the NSW Nordic Ski Club maintain it.
In April 2011, during a maintenance weekend, the Club was honoured to have a visit from Bob Hughes' nephew, also called Bob Hughes. This VIDEO captured the stories of the younger Bob Hughes about his uncle and Four Mile Hut.
Renowned author and lover of the high country huts, Klaus Hueneke, has released a book about Four Mile Hut. 'The Life of a Mountain Hut' is available from Table Top Press Books

Construction
This hut was made from anything left lying around, but its main elements included slab walls and floors and corrugated chimney and roof. Many of the materials come from the former Elaine Mine which Hughes managed from 1926 to 1936.
Use of flattened five gallon cans is a feature. There is an external toilet and a pot belly type heater, in the old stone hearth fireplace, one of the key reasons it still stands. A unique feature is that a small leather washer was put under every nail used to hold the roof (and much of the timber work) together. A recent renovation team had to duplicate this work.
Tribute to Bob Hughes in song
Former Club member and musician, Bob Guy was involved in many working parties at Four Mile Hut. Bob wrote and performed this https://www.khuts.org/index.php/heritage-guest/music with accompanying pictures of the hut. (** Bob Guy died in Cootamundra Hospital on 14 September 2019)
Kosciuszko Huts Association
The club is affiliated with the Kosciuszko Huts Association (KHA). Some of this information is from the KHA website where you can find more about Four Mile Hut and the other huts of the Kosciuszko area.